The 1st Lightning Division is a special forces Overwatch unit specializing in lightning-fast assaults and stronghold clearance. Their main battle process goes as follows; Deployment by Dropship (called "Boomers" by infantry) close to the line, charging into battle and suppressing the enemy, and flushing out the opposition using an arsenal of fast-firing machine guns and assault rifles, flamethrowers and pulse cannons.
.
.
.
.
.
.
.
.
.
.
The 1st Lightning Division is comprised of Elite, specialized units each with defined roles on the battlefield.
Storm Soldiers
Edit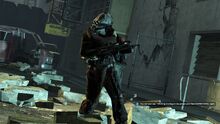 Storm soldiers are the meat of the 1st Lightning Division. Armed with assault rifles, they lead the charge on the frontline.
.
.
Weapons Specialists
Edit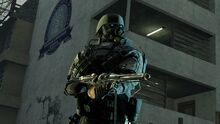 Weapons specialists are the support role in a standard squad. Armed with suppressive machine guns, they assist the assault, keeping insurgents at bay while the rest of their squad moves forward. If the squad was to encounter an obstacle, or was to require a specific structure be demolished to complete their task, the Weapons specialist can employ their assigned demolition charges to ensure the advance is smooth.
Combat Synths
Edit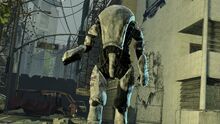 The most terrifying portion of the 1st Lightning Divisions' army, the hulking Combat Synths lurk among every squad, shrugging off heavy fire like it were rain. There are two types of Combat Synths that feature in a squad; The flamethrower Synth, distinguished by its ochre carapace and the Pulse Cannon synth, distinguished by its ashen carapace. Flamers are assigned the role of flushing out stubborn positions, engulfing the target with searing flames allowing its fellow squadmates to advance. The synths with Pulse Cannons fire concentrated shots of Dark Energy at the target, punching holes in even the thickest armor and severing humans like plastacine. Combat synths ensure that no squad can be stopped by any obstacle.
Squad Composition
Edit
The 1st Lightning Division follows a defined and strict squad composition which goes as follows;
x4 Storm Soldiers armed with LSRs and 2 Incendiary Grenades
x2 Weapons Specialists armed with SLMGs and 3 Demolition Charges
x1 Combat Synth armed with either a Pulse Cannon or Flamethrower
Weaponry
Edit
The 1st Lightning Divisions' arsenal is unlike that of other Overwatch units, with the inventory issued to the infantry contai no pulse weapons. Their weapons follow a more traditional human design, firing metallic ammunition instead of pulse slugs featured in the OSI-AR2. Flamethrowers and High-power pulse cannons are issued to the arms of the combat Synth standard in each squad.
Weapon
Used by
Purpose
Image
LSRMk.3
Storm Soldiers
General purpose backbone armament

SLMG Mk.5 "Shredder"
Weapon specialists infantry
Suppression and support

Arm-mounted Pulse Cannon
Ashen Combat Synth
Punching holes in armor, but often used also as anti-infantry

Arm-mounted Flamethrower
Ochre Combat Synth
Clearing entrenched hostiles

Destruction of property

Crowd-control